RMC Featured in NJAC County Biz – The Potential Cost Impact from the TTF Shutdown Article
November 2, 2016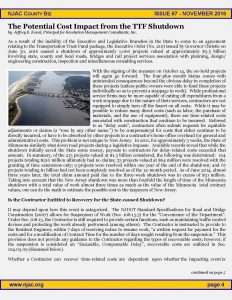 Resolution Management Consultants, Inc. (RMC) published an article in the New Jersey Association of Counties (NJAC) County Biz November Issue #67. The article addresses the possible cost impacts as a result of the inability of the Executive and Legislative Branches in the State to come to an agreement relating to the Transportation Trust Fund package for over three months that caused a shutdown of approximately 1,000 projects valued at approximately $3.5 billion involving state, county and local roads, bridges and rail project services associated with planning, design/engineering, construction, inspection and miscellaneous consulting services.
Click on link to access the article at NJAC: NJAC County Biz – Issue 67 – November 2016
Resolution Management Consultants, Inc. (RMC) is a nationally recognized consulting firm headquartered in Marlton, NJ, specializing in avoiding, minimizing or resolving problems that may evolve during the design and construction process. Founded in 1993 by veterans in the construction contracting and engineering professions, RMC has assisted numerous private owners, public (city, state and federal) agencies and contractors in either achieving project goals or resolving cost and time disputes between the contracting parties. The collective experience of our professional staff encompasses all phases of the design and construction process, including engineering, construction management, and accounting. For more information on RMC, please visit our website at www.resmgt.com.
Resolution Management Consultants, Inc.
James F. Gallagher/Jeffrey B. Kozek
Principals
(856) 985-5000, Toll Free: 800-390-8800
j.gallagher@resmgt.com/j.kozek@resmgt.com